Q School
2 Days of Meat & Smoke
UPCOMING CLASSES:

June 25-26, 2016 - Swamp Boys Q School in Winter Haven, FL
Swamp Boys Q School is a 2-day Competition Style BBQ Techniques Class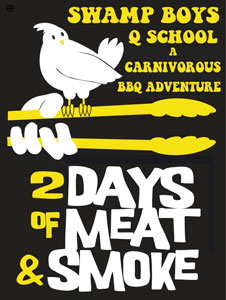 At Swamp Boys Q School, we cover all aspects of a professional BBQ contest... from purchasing meats through turning in your boxes. This includes all 4 meats... chicken, ribs, pork, and brisket. I show you proper meat selection, how to trim your meats, what injections to use and how to inject, popular marinades and rubs to use to achieve that certain flavor profile, effective cooking temperatures, target meat temperatures, sauces to finish it all off right, and how to build a high scoring FBA and KCBS turn-in box.


Besides our Swamp Boys Rubs and Sauces, you will get to see and try several BBQ products from some of the top suppliers. This is an excellent opportunity to try and compare some of the best BBQ products in the country that are great competing or in your backyard!


We feature products and discounts from Swamp Boys, Deep South Smokers, Butcher's BBQ, ButtRub.com, Big Poppa Smokers, Oakridge BBQ, Wicked Que, Grizzly Coolers, and more.


Check back for upcoming classes or contact us to see about hosting a Swamp Boys Q School in your area.